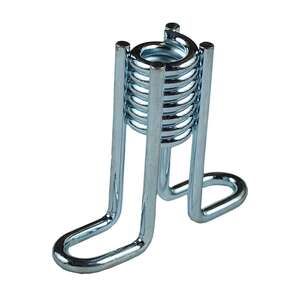 Item # CINB1615-C
1-3.5 X 5 Coil Loop Insert
The coil loop insert coil thread is a perfect option for lifting and handling precast concrete elements and different configurations can also allow for forming applications. Coil loop inserts are available in 1/2, 3/4" and 1" diameters in various standard lengths. The coil loop insert is made of a single looped wire strut welded to a helix coil, and it can also be manufactured in other than standard lengths and with a nailing washer if needed.
Concrete poured in place insert carbon steel
Zinc/clear coating
Heavy duty durability
Designed for temporary connection
Perfect for concrete insert applications
Simple in design and fabrication
Does not include a washer
Don't see your size? We will custom manufacture coil loop inserts to your exact specifications.
Specifications
| | |
| --- | --- |
| Diameter | 1 |
| Threads Per Inch | 3.5 |
| Length | 5 |
| Threading | Coil |
| Material/Grade | Steel |
| Coating | Zinc Clear |