Cost-Effective Custom Metal Stampings
High Precision Custom Metal Stampings
Our custom metal stampings are created by placing sheet metal into a press that utilizes any of a variety of manufacturing processes including punching, blanking, embossing, bending, flanging, and coining.
Tengco's engineers work hard to save you money by providing innovative, cost-effective solutions, and utilizing the stamping process can provide you an incredibly cost-effective option for manufacturing your custom metal stamping part.
Our in depth product development process and our state-of-the-art technology ensures that your metal stampings are done right every time, with consistent quality in even the largest orders.
Typical metal stampings made using stamping technology include washers, clips, lock nuts and cable racking but Tengco can offer thousands of different custom metal stampings for a diverse set of applications and industries.
Tengco ensures that your custom metal stamping meets your exact specifications utilizing these:
Available Materials:
Carbon Steel
Heat Treated Steel
Stainless Steel
Aluminum
Brass & Bronze
Coatings & Platings:
Black Oxide
Electro-Zinc Galvanized
Epoxy Coated
Hot Dipped Galvanized
Mechanical Galvanized
Nickel Plating
Passivation
Phosphate Coated
Powder Coated
Trivalent Plating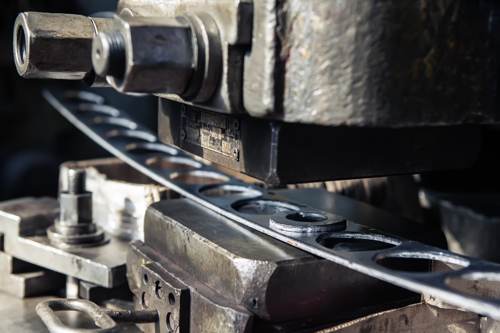 Some of the benefits of metal stamping include:
Strict Quality Standards

High Repeatability

Low Price Per Part

Longer Runs

Fast Turnaround Times

Consistent Tolerances

Less Scrap Metal

Reduced Manufacturing Costs
Take a Closer Look at Tengco's Custom Metal Stamping Quality
These are just a few of the many types of stampings Tengco can produce.
How Can Tengco Help You?
Tengco is ISO 9001:2015 Certified through our Midwest location. The combination of our experienced engineers, quality control technicians, logistics team, customer service and sales staff can help you maintain the highest standards for your custom parts.
Tengco provides world class global sourcing, service and distribution. We have the perfect solution to your global sourcing needs.
We can provide anything from standard nuts and bolts to specialty fasteners, castings, forgings and stampings.
Contact Us
More Services
Metal Stamping Expertise at Your Fingertips