Custom Concrete Accessories - Coil Products, Penta Bolts, Wing Nuts and More
Tengco can supply virtually any custom-formed part required for precast & formwork concrete accessories. We have over thirty-five years of experience providing concrete accessories for the construction industry. Tengco parts have been instrumental in constructing high-quality bridges, high rises, parking lot structures, highway overpasses, and many more concrete construction projects.
Tengco's engineers provide mechanical and industrial engineering support, leading to assured high-quality products at competitive prices.
Each factory, international distribution center, and domestic distribution center has quality control technicians to ensure a consistent, dependable product that exceeds expectations.
At Tengco, quality, performance, and affordable prices for custom concrete accessories blend together to meet each client's specific needs while offering unmatched value. We take pride in our extensive global network of manufacturers and distribution points. This ensures flexible scheduling and the best options for shipment.
We provide end-to-end services at every step of the custom manufacturing process. From global sourcing to product development, fabrication, inventory tracking, warehousing, and shipping, we make sure that your order meets your expectations.
Our Most Popular Concrete Accessories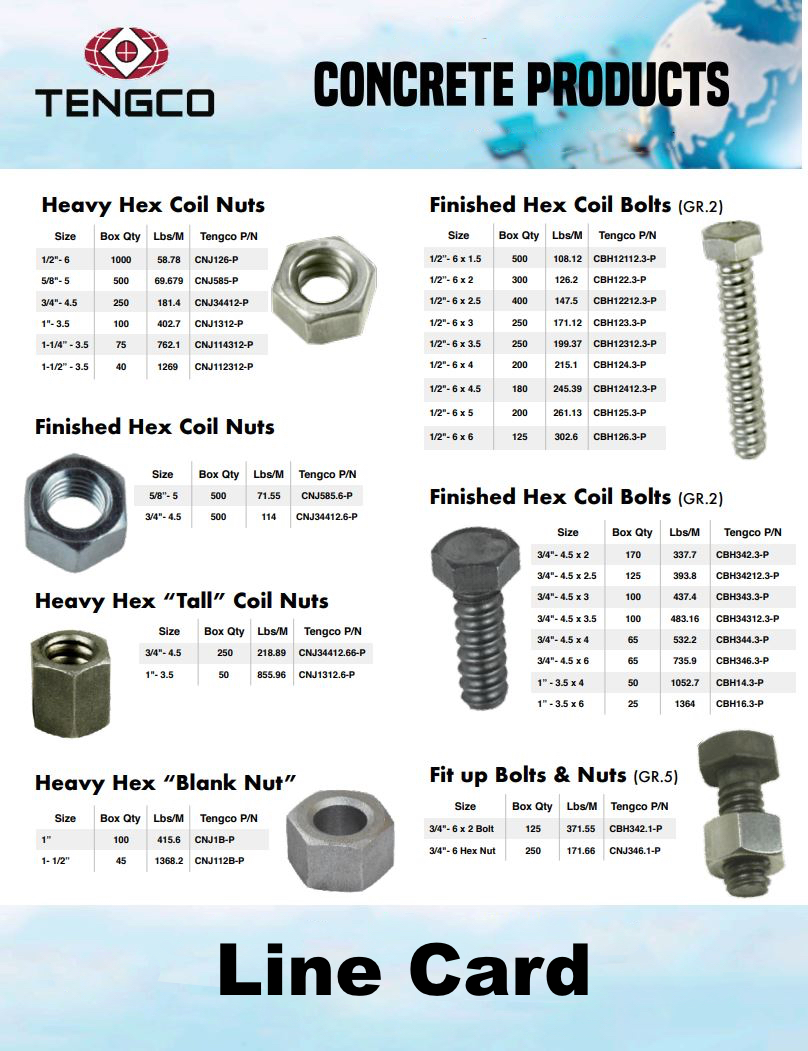 When it comes to our custom concrete accessories, we work with only the best overseas manufacturers to provide the perfect fit, allowing for improved construction speed, less maintenance, and durability.
We go the extra mile to ensure that our parts are expertly designed to truly bring your concrete innovations to life safely and reliably.
Since we work with your exact dimensions and sketches, our custom concrete accessories allow for a high load capacity able to withstand and exceed the specific functional needs of the structure, ensuring additional safety. Our parts are designed for ease of assembly to maximize your construction sites efficiency.
Here are some of our most popular concrete accessories.
Coil Bolts: Our coil bolts are self-cleaning, meaning they can expel debris, so they are often ideal for construction sites. This self-cleaning property improves longevity, enhances efficiency, and reduces maintenance. As a result, you can expect increased safety and durability of the threads, making them cost-effective, consistent, and reliable.
Our Coil bolts come in different sizes, making them versatile and allowing you to use them in concrete formwork, forming, or precast concrete applications. These reusable concrete fasteners can quickly tighten and loosen without losing grip because they are made from strong material and have self-cleaning properties.
Penta Bolts: These uniquely designed Pentagonal bolts enhance security through their specially shaped head. Since these concrete accessories have five sides, they require a specific Penta socket tool to fasten and loosen. This is a simple yet effective solution to tampering and vandalism, making them ideal for a wide range of applications.
Our Penta bolts can be used to secure polymer concrete vaults, meter boxes, pole top transformers, and for other security purposes.
Screed Pads: Our screed pads are cost-effective concrete fasteners to increase concrete leveling. We make them from non-rusting material, perfect for overhead decks often affected by environmental conditions like rain, humidity, and wind. Get our standard screed pads with a 1/2" NC thread stud in the center of a 3" diameter base.
We can help you get custom fits to help properly guide you in attaining the perfect depth and level of concrete placement. Our screen pads are also ideal for large projects and versatile enough for smaller projects. They are easy to install, helping you save time and effort, labor, and material waste.
Don't see your item? Don't see your size? Check out the list below for more suggestions.
We will custom-manufacture concrete accessories to your exact specifications.
Loading