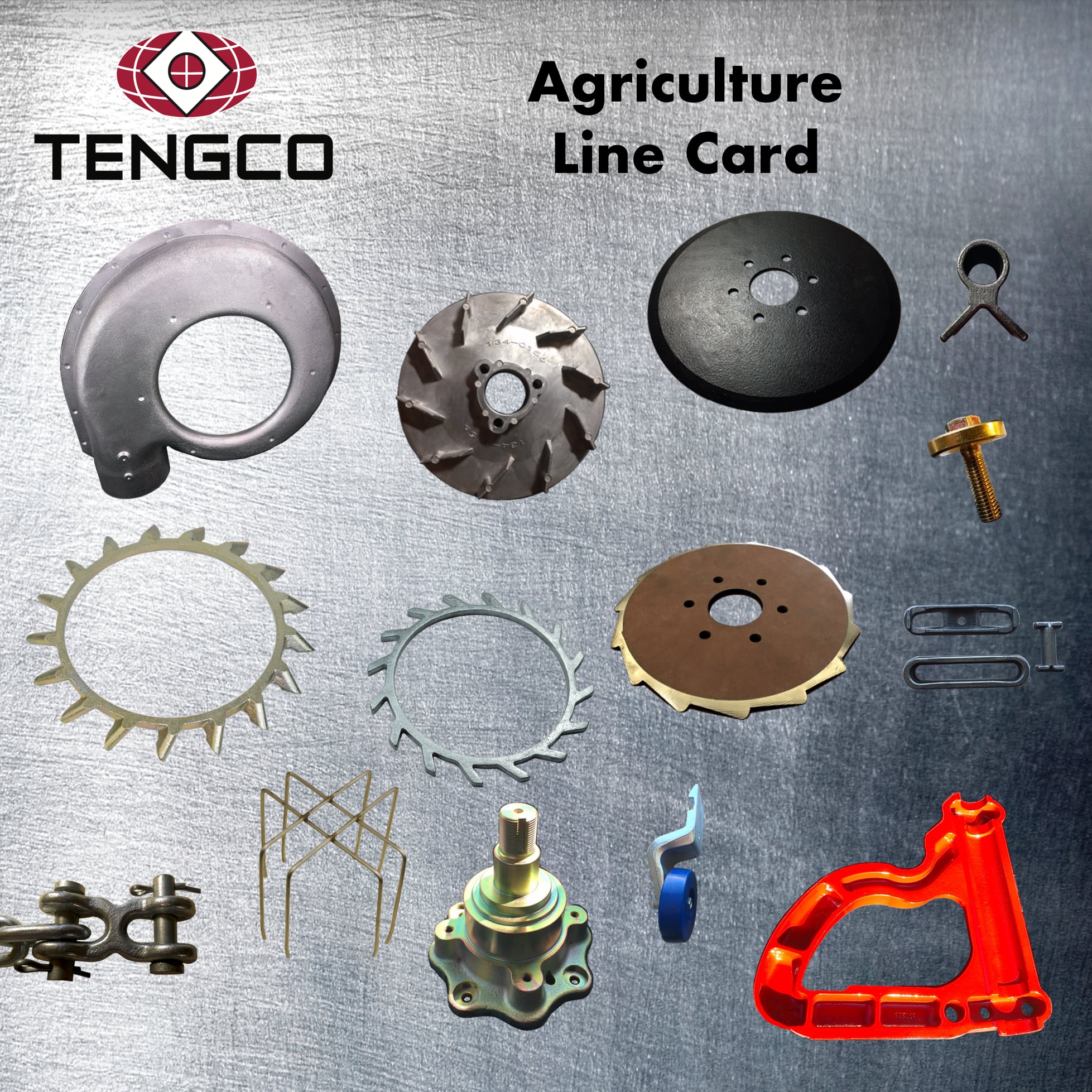 Technology is quickly transforming the agricultural industry. Farmers, meat processors, irrigation specialists and others within the industry rely on machinery to perform their roles daily. Building, maintaining, and repairing farming machinery requires a steady and consistent supply of agriculture OEM hardware.
At Tengco, we have over 40 years of experience supplying customers with farm equipment parts built custom to their needs. Our engineers work with you to build your parts to your exact specifications. We source our OEM hardware from top manufacturers around the world. We have warehouse facilities across the country to ensure our clients always have the assemblies, castings, forgings, stampings, and machined hardware they need.
Agricultural OEM Hardware Built with Durability in Mind
Few days go by in a year when farming equipment goes unused. Farm equipment parts high usage can cause parts to become worn out quickly if they are designed poorly or manufactured by an unreliable firm.
Our suppliers are dedicated to producing products of exceptional quality. Our catalog includes the following parts:
Tillage & Planter Parts

Castings
Forgings
Weldments
Specialty Fasteners
Cattle Guard Fence Hinges
Forged Mower Bolts
Rake Casting Mounts
Meat Packing Conveyor Accessories

Trolley Arm Assembly
Chain Assembly
Pulley's
Towing Equipment

Castings
Forgings
Assembled Hardware
Cable Assemblies
These items are built using technologically-advanced manufacturing processes to maximize their structural integrity. Our partner facilities are staffed by skilled quality control technicians, who monitor each batch of farm equipment parts for defects. We also understand no two companies or manufacturing processes are the same, which is why we design every agriculture part based on the specifications you provide to us. Simply send us a drawing of the part you need, and our team of engineers will take it from there.
Plus, we pair the outstanding quality of our parts with competitive prices to allow any farming equipment supplier to access Tengco OEM hardware.
OEM Hardware for every Stage in the Farming Equipment Manufacturing Process
When you partner with Tengco, you can expect support at every stage of the custom manufacturing process. From global sourcing and product development to inventory management and quality control, our team of experts works closely with your supply chain team to understand the agriculture parts they need and share the lead time they should expect for deliveries to minimize downtime.
If you're a manufacturer of farm equipment, turn to Tengco for your OEM hardware parts. Contact us today, and you will hear from a Tengco representative within the hour.
Page {pageNumber} of {pagesNumber}
Page {pageNumber} of {pagesNumber}
Loading