Hex Head Machine Screws (Sems)
Tengco specializes in Hub Cap Bolts and SEMS screws for the automotive industry. These Sem Screws are hex machine screws with pre-attached washers that reduce assembly time. Sems can be supplied with a wide variety of washers which can be used for locking and minimizing vibration in each application. Since the washer is already under the head, SEM Screws allow for fast installation and easy adaptation for many applications. Tengco can make SEMS screws in a variety of sizes and head styles, including hex, hex washer, and pan head. We can also offer a full line of metric SEMS screws.Tengco can supply virtually any special formed metal part required. Tengco has over 35 years of experience providing sophisticated custom cold headed bolts, nuts, screws and washers along with a wide variety of custom automotive hardware.
Our PPAP documentation and approval process ensures a consistent, dependable product that exceeds expectations. Tengco can provide the quality, performance, and price customers require for their automotive hardware. We provide services for every step of the custom manufacturing process. From global sourcing to product development, fabrication, inventory tracking, warehousing and shipping, we make sure that your order meets your exact specifications. Our line of automotive hardware includes an extensive range of fasteners and hardware.
No matter what type of automotive work a company specializes in, we can provide the essential automotive fasteners and hardware needed to stay competitive, and our global network of manufacturers and distribution points insures flexible scheduling and best options for shipping. Tengco's inventory management experience ensures that you maximize your inventory turns and get the right parts on time, every time.
Don't see your item? Don't see your size? We will custom manufacture automotive hardware to your exact specifications.
Page {pageNumber} of {pagesNumber}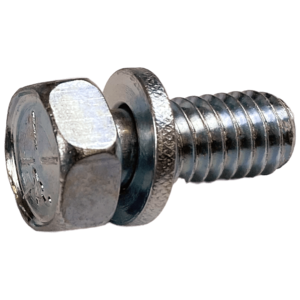 ABB51634.2-C
5/16-18 X 3/4 Hex Head Machine Screw (Sems Screw)
Weight: 22.300
XBX5161.2-P
5/16-18 x 1 Hex Head Machine Screw (Sems Screw)
Weight: 37.000
XXX516218.2-C
5/16-18 X 2 Hex Head Machine Screw (Sems Screw)
Weight: 53.994
Page {pageNumber} of {pagesNumber}
Loading