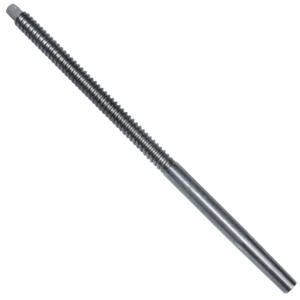 Item # CBX123417-P
1/2-13 X 3/4-5 X 17" She Bolt - ACME Thread
The she bolt is a heavy duty reusable form tie for medium & heavy concrete construction. They are used with ACME or coil rod in conjunction with cat head washer nuts and wing nuts. The exact dimensions can be easily adjusted by cutting the all thread to size and using a complementary she bolt.
The she bolt tie system is perfect for use with large crane handled or ganged forms, and by utilizing a wing nut and bearing washer on the external end of the she-bolt this system can be used on a wide range of different formwork thickness.
She bolts can be reused, but they can wear with repeated use so they need to be continually inspected.
Cast in Grade 60 steel
Plain & lightly oiled
Heavy duty durability
West coast style ACME 5 threading
Can be made to your ACME specifications
Reusable for lite formwork applications
Easy installation
Don't see your size? We can custom manufacture she bolts to meet your exact specifications in a variety of lengths and thread types.